The Director, Monty Bassett
From Ducks to Dogs
By Monty Bassett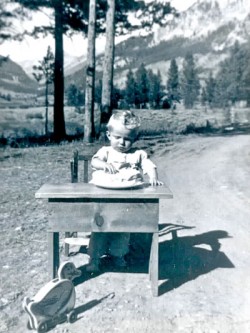 Nothing in my childhood suggested that I would become a natural history filmmaker, and yet it is because of my early life that I have. From the ducks of youth to making movies was not linear trail, but in retrospect I see there is a thread of continuity through the journey.
I was raised on my family's ranch in the Teton mountains of Jackson Hole, Wyoming. It was a grand, wild stage for a boyhood spent on horseback wandering through, wondering about the complexities of the natural world.
And while Nature was my teacher, real Cowboys and Indians were my role models. And because both are oral cultures, storytelling became my inheritance. Making films is merely telling a story with the added tools of sight and sound. And for me, there is in the mysteries of Nature, a boundless supply of intriguing stories.
En route there were many serpentine twists. Drawn from home by a sense of wonder about the outside world, curiosity led me through a diversity of careers. I was a teen cheap-thrill junkie (rodeo clowning being the best job I've ever had). I've been an academic, a writer, even novelist though I couldn't read until I was 16.
I've been a soldier during troubled times and a pacifist the rest of the time. I am gun-shy of organized religion, yet a devout Deist. At times I've been an environmental activist out of necessity, arising from my love for my family and the planet they'll inherit.
Still, it would take a tragedy to turn my curiosity into a career in film. When a close friend and brilliant cinema photographer named Myron Kozak was killed in a bush plane crash, I inherited a box of his footage for a project in need of a script. I had never written a script, but out of respect to Myron, I did.
The resulting short film, narrated by David Suzuki, generated a remarkable amount of interest in the issue of industrial logging of the boreal forests. And I realized how effective film can be at catching people's imagination.
The next year, I was part of a pioneering expedition into Canada's Grand Canyon of the Stikine River of British Columbia, and became intrigued by the mountain goats that inhabit the canyon's impossible vertical walls.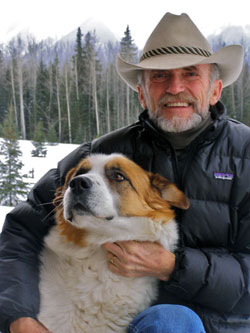 I pitched to Discovery Channel the idea of a documentary about the goats unique lives. They liked it and the resulting film, "Life on the Vertical" was well received, winning a number of national and international awards. Out Yonder Productions was created in its wake.
Today I live on a ranch in the middle of mountains and glaciers. I have a family of rampant individualist women, two saddle horses, two dogs … and I make movies. Still, of all the careers I've enjoyed, making movies is the one I'll stay with for the simple reason, it is a profession that legitimizes doing all the rest.
Or, as cameraman Cas Sowa said incredulously, as we sat on the upper edge of a bottomless canyon at sunset, watching a nanny and her kid defy gravity on the opposite wall. "And we get paid for this?"