The Director, Monty Bassett
From Ducks to Dogs
By Monty Bassett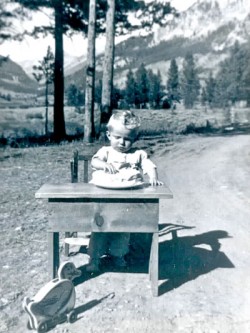 In retrospect, there is nothing in my background that would suggest I'd become a documentary filmmaker. And yet it is because of my background that I did.
I was born on my family's ranch in the Teton Range of Wyoming. The wilderness was the stage for a childhood spent on a horseback exploring elk trails, and fly fishing for rainbow trout. Nature was my teacher, but cowboys and Indians were my role models. And because both cultures are oral traditions, storytelling became my inheritance. Making films is merely telling a story with the tools of sight and sound.

Though telling stories about the wild was a natural progression into filming nature, it took a tragic act of fate to turn the union into a career. In the mid-1980s, I was involved in a seemingly futile fight to stop industrialized clear-cut logging of the slow growing, northern boreal forests. Cinema-photographer Myron Kozak was equally incensed about the issue and we decided to make a short film -- I'd do the script and he'd do the filming. Tragically, Myron was killed in a bush plane accident midway through the project and I inherited a box of raw footage.
With the guidance of a brilliant young Belgium editor named Chris Fleeracker, and narration by David Suzuki we put together a 20-minute film called "Cassiar at the Crossroads". The film received considerable attention and working closely with the Tahltan Natives, northerners and an international NGOs, the fight ultimately was won. And incredibly, not only was the logging of the northern boreal forests of British Columbia stopped, the District Forestry office for the Cassiar District was closed.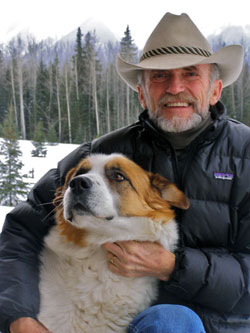 Not long after, fate interceded once more when I was asked to do an interview for Discovery Channel regarding an article I'd written for Nature Canada about a population of mountain goats living on the vertical walls of Canada's Grand Canyon on the Stikine River. The interview went well, but we soon discovered that there was no stock footage of either the animals or the canyon. As a consequence I pitched Discovery's Director of Programing, John Panikkar, with an idea for an hour documentary on the Stikine Canyon goats. The resulting film, "Life on the Vertical," became a great success, and making films is now both my avocation and vocation.
Since my carefree youth in the wilds of Wyoming, I have had a number of eclectic jobs: a mountain guide, ski instructor, journalist in South America, a soldier, University instructor, Executive Director of a wildlife research foundation and even a rodeo clown. But is filmmaking it will be my last, for it is the one job in which I can legitimately justify doing all of the rest.